How 24/7 Self Service Branches ensure social distancing compliance in banks

COVID-19 has accelerated change, as governments implement social distancing measures around the world to help fight the virus spread. Businesses and banks are looking to technology to help them stay compliant and protect their staff and customers.
As businesses head towards digital transformation, smart digital channels can serve customers around the clock, while delivering greater convenience and more control over the customer experience.
With lockdown, people need more freedom than ever to choose how and where they access financial services for a safer customer journey. One of the best ways to serve customers in your bank while maintaining appropriate physical distance is with self-service kiosks. They can eliminate human interaction and create a safer and healthier customer journey, protecting both customers and staff.
If you're not already embracing digital banking, omnichannel banking, and kiosk technology in your branches, now is the time to start. So, let's take a look at how self-service kiosks can help your bank deliver better, safer services to customers, both now and after the pandemic.
Image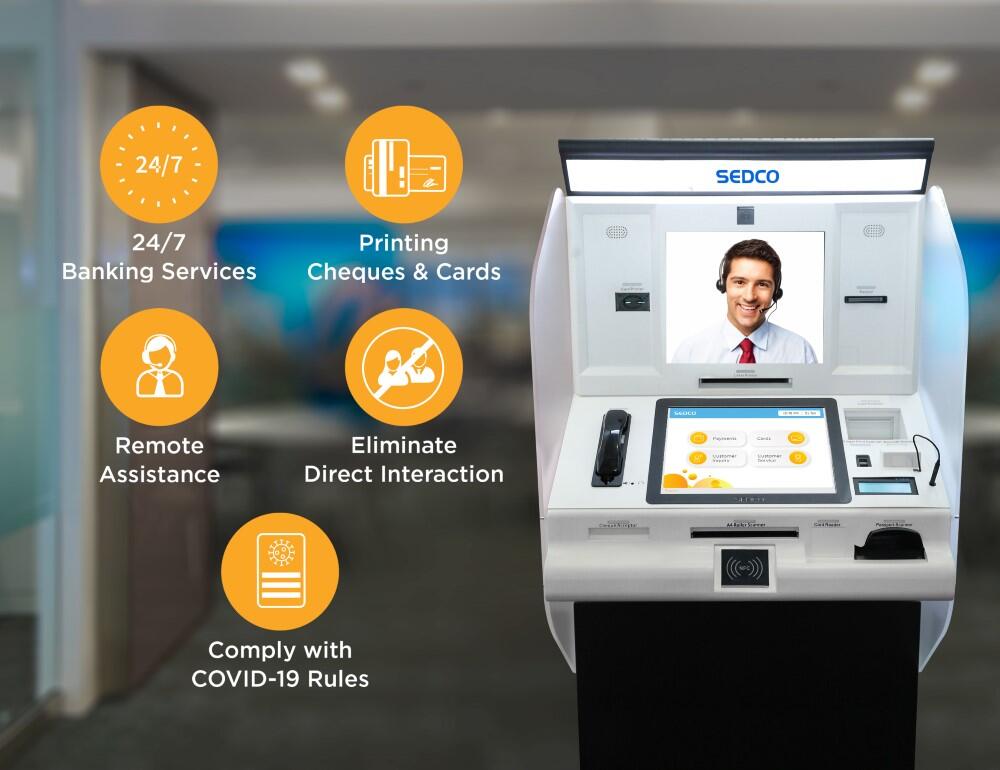 Complicated banking transactions made possible 24/7 with self-service kiosks
Banks can offer contactless alternatives to services that are typically done face-to-face with a teller by installing a range of different machines and kiosks. Customers can complete a range of tasks using a kiosk, from opening new accounts and issuing cards, to printing cheques and applying for loans.
For example, some of the services made possible with SEDCO's kiosk machines include identifying customers by scanning their IDs, passports, and fingerprints. Kiosks can also read and dispense ATM cards, print cheques, accept signatures, as well as print and scan documents.
 
How self-service kiosks improve social distancing
 
Faster processes while maintaining safety
Less time in the building means you can process more customers in a shorter amount of time, while minimizing virus spread. When self-service kiosks are installed in places away from waiting rooms or banking customer service areas, you reduce the risks that come with prolonged close contact with other people.
Minimal human interaction
Until recently, some consumers saw the lack of human interaction associated with self-service kiosks as a negative. In fact, in one survey, a third of respondents avoided self-service machines because they preferred human interaction as part of their customer experience.
But the pandemic has turned this negative into a positive, as businesses and consumers seek to maintain compliance with government regulations and improve personal safety. With kiosks, banks can reduce the number of staff needed to service walk-in customers in the branch, reducing the potential exposure of staff and customers.
Video Banking Kiosks bridge the gap between the physical and digital worlds by empowering your customers to have video calls with remote agents through the machines. That way, they get a physical world experience, while incorporating digital technology to minimize face-to-face human interaction.
 Better availability
Self-service kiosks can offer unattended banking services through 24/7 self-service zones. Customers who are vulnerable, essential shift workers, and those who wish to avoid the crowds can complete their banking transactions outside of usual business hours with access to your self-service kiosks.
Another benefit of kiosks is they can be installed in public places like malls and train stations without needing to fit out or staff a new branch. It's the ideal way to target underserved areas and ensure your customers can conveniently access your services close to their home or workplace.
Safer handling of cards and documents
Kiosks can also print documents without employee assistance, as well as scan cards, documents, passports, and more. They can even print and dispense new bank cards, cheques, and chequebooks for customers - all without direct staff contact.
 
Display health tips on kiosk screens
Help guests follow hygiene protocols by sharing relevant information on the kiosk screen to increase compliance, like:
"Please use the sanitizer before and after touching the device"
"Please maintain appropriate social distancing"
"'Please apply a mask before entering the branch"
For safety and hygiene, provide a hand sanitizing station at your branch entrance and with each kiosk.
Benefits of kiosks after the pandemic
Social distancing is likely here to stay (at least for the next 18-24 months) as we find a new, safer normal. That said, even when you take away physical distancing, banks still gain substantial benefits from their kiosks, including:
Customer empowerment - Give customers the ability to choose how they experience their banking services, whether face-to-face, via a kiosk, or via video calls through the machines.
After hours service - With 24/7 self-service kiosks, allow your customers to access nearly all your services on-demand.
Improved efficiency - Minimize queue length and wait times.
Better customer experience - Personalize the customer experience by integrating kiosks into other touchpoints throughout the customer journey.
Greater comfort - Allow your customers to use the machines while seated so they stay comfortable, even throughout longer transactions.
Increased revenue - Promote relevant services at the right time, tailored to each customer profile.
Resource efficiency - Deploy and relocate machines, and minimize the number of branch staff needed to serve customers.
Improve your bank's hygiene practices both now and in the future
Find out more about SEDCO's self-service kiosk solutions or contact our team for personalized advice about digital solutions to make your bank social distancing compliant during COVID-19 and beyond.
Read more tips from us about how to optimize your banking practices during a pandemic: