How Voice Interactive Self Service Machine transforms the customer experience

Self-service technology has dramatically grown in popularity in recent years. It has transformed entire industries, such as banking where ATMs and ITMs have become prominent service channels. According to research by Market Research Future (MRFR), it is expected for the self-service market size to reach USD 72.51 billion, growing at a compound annual growth rate of 11.27% by 2030.
However, one of the major challenges that some businesses face when adopting self-service technology is that many people prefer face-to-face interaction; as some of them do not know how to use the self-service machines and are intimated by the experience.
One way to help novice users overcome their worries is by implementing interactive self-service machines with a voice command, empowering them to interact easily with the machines by voice and enjoy a touchless experience.
Continue reading to learn how this feature leverages self-service machines, how it works, and what benefits it can offer to your customers.
Image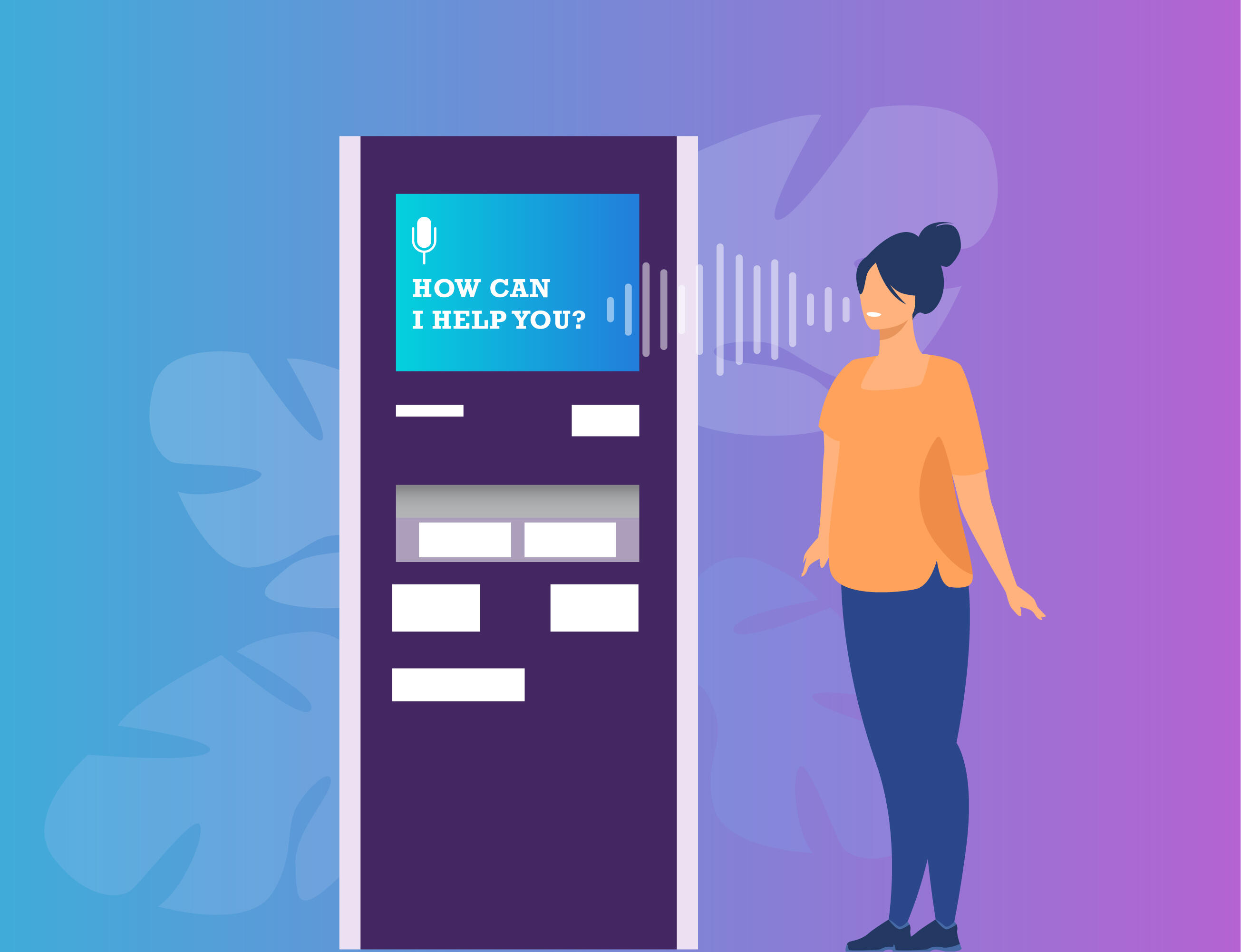 What is Voice Interactive Self-service Machine?
In general, a self-service machine is a kiosk that makes the services of a business available 24/7, allowing customers to get services by themselves with a few touches on a kiosk's screen
Now imagine that once your customers approach a kiosk, it starts talking to them immediately, welcoming them, and asking about what they want to do. By mentioning what exactly they want, the kiosk responds directly to a specific service, or starts asking other questions in order to complete the service.
For example, customers of a bank or currency exchange house can start the money exchange service by simply saying the relevant service text that appears on the machine's screen or any of its synonyms, such as "currency exchange", "currency convertor", or "forex". The machine will recognize the request and perform the service accordingly- provided that the request is articulated clearly.
This is what a voice-powered self-service machine can do. It empowers customers to "speak" with the machine, in a fashion similar to face-to-face interaction, taking away their confusion, and giving them a more pleasant experience.
How a Voice-powered Self-service Machine Transforms the Customer Experience
It alleviates the uneasiness of novice customers
As mentioned earlier, inexperienced customers might be hesitant to try new technologies. The voice-enabled machines are easy to use, taking away any worries that customers may have, and providing them with a simple and comfortable experience.
It offers a safer customer experience
With the COVID-19 pandemic and other health hazards arising now and then, a self-service machine with a voice command feature can provide customers with contactless services. It eliminates the need for customers to touch any screens or buttons that may be contaminated, ensuring that they have a safer touchless journey.
It offers more convenience to customers
An important customer segment that deserves proper care is the physically challenged people. By implementing an interactive self-service machine with voice command, you cater to their special needs, offering them a convenient way to get your services without having to make any extra effort. For example, a person in a wheelchair or with a broken limp can get a certain service by simply saying the name of the service that they need.
Another great usage for this feature is in drive-thru kiosks, allowing customers in their cars to get services easily via voice commands.
Transform Your Customer Experience With Interactive Voice-enabled Self-Service Machines
Integrating digital branch transformation technologies within your organization can allow you to differentiate your business and offer more value to customers. SEDCO's latest voice-powered self-service solutions help you to take your services to the next level. It caters to the different customer segments that you may have, offering them a convenient and safer journey 24/7. The machines are very easy to use, encouraging customers to try them, even if they generally don't like to use machines.
Furthermore, the voice command feature in SEDCO's self-service machines can work offline without an internet connection, making it easy to install and run this feature on the machines. 
Whether you are a bank, telecom company, healthcare provider, governmental office, or retail, SEDCO's self-service solutions can be tailored for your specific needs. Contact our experts today to learn how the interactive self-service machines can take your customer journey to the next level.