Self-service is key to optimal customer experience

By Majdi Al-Beit Shawish, CEO at SEDCO
The Middle East is currently witnessing a huge digital transformation shift across all industries, with the last two years defining the customer service and experience era of now. With the onset of the on-demand economy, customers have a need for speed, they want products and services to be delivered as fast as possible and with utmost convenience. In this digital age, the future of customer service is letting customers go through the processes themselves, i.e. using self-service kiosks.
The global kiosk market is projected to grow from $22.69 billion in 2021 to $51.05 billion in 2028 at a growth rate of 12.3% annually. Narrowing down to the MEA self-service market, it is forecasted to grow to $1,873.85 million by 2027; at a growth rate of 9.2% from 2020 to 2027. The rise in demand for contactless payment options and the call for less human interaction amidst the pandemic has contributed to this growth, especially since the pandemic accelerated digital transformation and put pressure on all organizations to minimize their opex.
Image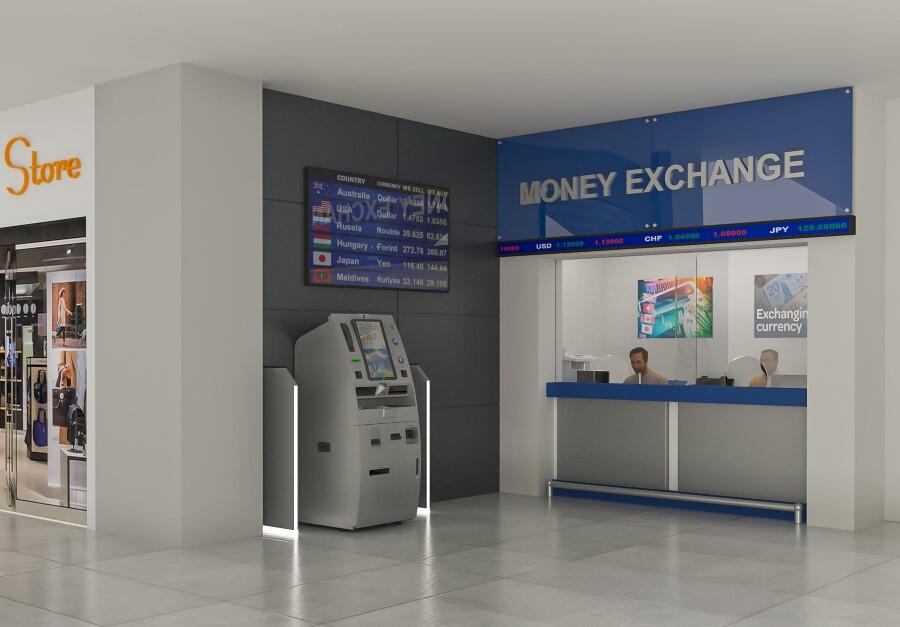 An alternative service channel that can benefit businesses
There is a clear benefit to employing self-service solutions, especially with financial transactions. These innovative kiosks provide choice and flexibility to the customer without sacrificing profit margins for businesses. The new generation of independent consumers, the millennials and Gen Z, are the advocates of the on-demand era, where human interaction and long wait times are archaic. In fact, fintech firm Self Financial has predicted that in the United States, bank branches have the potential to become extinct by 2034 and that self-service is not an option but a necessity now.
One of the industries that can benefit greatly from self-service kiosks is money exchange houses. Expatriates form around 89% of the UAE population and tourism is well on its way to recovering to pre-Covid-19 days with Dubai Airports projecting 58.3 million passengers in 2022. These numbers indicate that money exchange is an essential service for both residents and visitors. Self-service solutions that extend from everyday retail banking to currency exchange are taking over the customer journey in the region. They empower customers to perform a big number of tasks like automated currency exchange and global money transfers via an easy-to-use touch screen kiosk.
 
Why businesses should invest in self-service
Over the long-term, self-service will bring a return on investment, the one-time cost of buying the kiosk(s) are made up through customer retention, increased revenue, reduced costs, lesser negative customer feedback and higher employee retention. Currency exchange machines provide a streamlined process, allowing companies to allocate human resources elsewhere, while still being able to service their customers. Businesses that can provide seamless customer journeys can differentiate themselves from the competition.
Reduce costs - In the long run, self-service cuts down on transactional and operating costs -instead of opening new branches, installing a kiosk or two at certain strategic locations will help avoid rental, employee salary, refurbishment etc. expenditure. Moreover, these kiosks can also be relocated to a high footfall location.
Extend working hours - With machines that work 24/7 and no need for human intervention, the branch's working hours can be extended so customers can exchange money at their convenience. For businesses, this means revenue round-the-clock.
More productivity - When customers are divided between physical and digital channels, staff can focus more on essential tasks, increasing productivity and customer satisfaction.
Efficient management - Money exchange kiosks provide an advanced management and monitoring system by recording cash inventory status and generating analysis about the kiosks' usability, error and resolution, transactions etc. Currency exchange houses can use this to enhance customer experience without increasing operating costs.
 
Why customers love self-service
The more connected a business is, the better it can serve its customers today. The need of the hour is fast, connected and simple transactions.
It saves time - Kiosks can reduce wait times by up to 40%. This means that efficient self-service reduces the waiting time for customers to see a teller almost in half, taking pressure off the tellers and staff during peak hours.
Personalized experience - According to a survey by Forbes, personalization increases customer loyalty & thus increasing revenue. When customers with an account/card sign in, they can be greeted with a message and have options tailored to their preferences.
Crowd control - Kiosks are especially useful now when people are hyper-aware of those around them. With 24/7 operable kiosks, customers will not rush to exchange their money during working hours but now have the option to do simpler transactions that do not require human interaction at their convenience.
Real-time updates – Besides currency exchange, customers can also transfer money globally and receive real-time updates on currency exchange rates.
The latest self-service technology will ensure a business thrives and provides quality service to customers. For example, SEDCO's multi-function money exchange machines are not limited to currency exchange but also provide banking services such as opening a new account, issuing ATM cards, cheque deposits, statement printing, bill payments, card renewal and much more at customers' fingertips, performed within seconds. Customers can even give the company their feedback on their customer experience on the machines. Businesses that have implemented kiosks to their full potential can cut down on costs enormously while still addressing customers' concerns.
Full-service kiosks are key to the digital transformation of financial institutions' branches, allowing the performance of several tasks more efficiently and independently, providing customers with a seamless experience at a lower operational cost. By understanding the needs of today's consumer and analyzing and adapting to their preferences, businesses can build a superior experience while future-proofing themselves for more behavioral shifts and market expansion at the same time.