What is a self-service zone? And how can banks benefit from it?

During the last few years, there has been a growing emphasis on digital branch transformation across the banking sector as financial institutions seek to improve the customer journey. Digital branch transformation offers an efficient solution for banks to reduce branch size and cost while providing their customers with a more convenient experience.
How can you implement digital branch transformation, though? There are several avenues to explore; one essential way is introducing 24/7 self-service solutions. Continue reading to find out how banks can benefit from self-service machines.
Image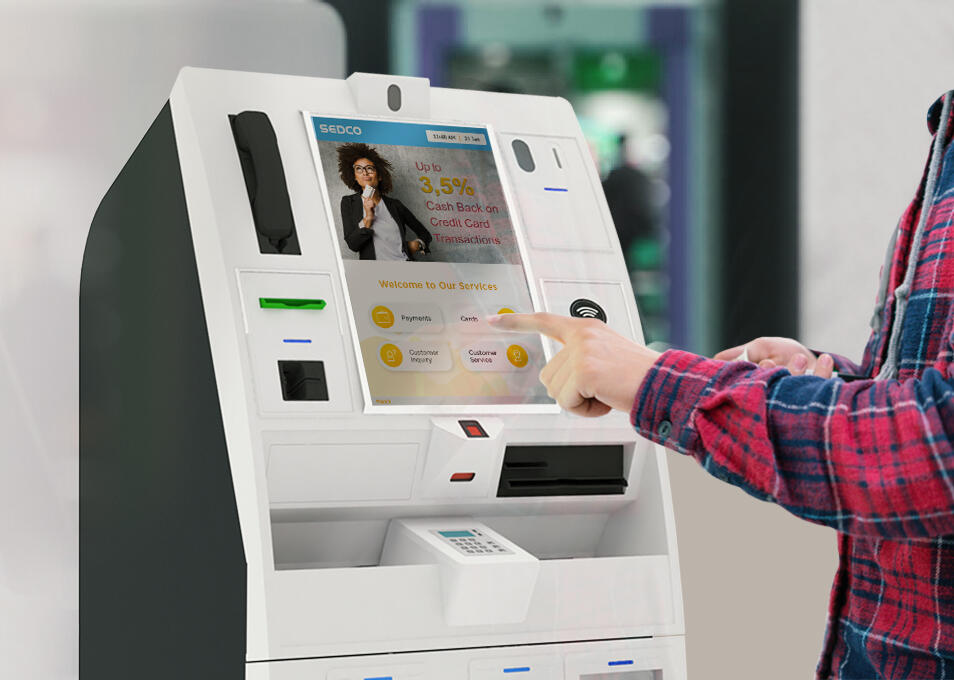 What Is a Self-Service Kiosk?

As the name suggests, a self-service kiosk is a device that enables customers to interact directly with a bank and utilize its services while offering remote consultation with a bank agent whenever needed - similar to ATMs and ITMs but performs non-cash transactions in a cost-effective manner.
Moreover, the self-service machines can be installed outside the bank's branches in a smart self-service zone or in public places, allowing the bank to offer its complex services to customers 24/7.
The multifunction machines can be customized to offer a variety of banking services, such as:
Opening a new bank account
Instant card issuance and printing
Cheque deposit
Instant chequebook or cheque leaf printing
Account statement printing
Applying for a loan
Fund transfer
Banks can integrate a video calling feature within the self-service machines, allowing customers to connect with a remote agent and seek consultation on complex transactions without having to visit a branch. Customers can also use this feature to provide ID verification (KYC) for services such as opening a new account.
What are the Benefits of Self-Service Machines for Banks?
A self-service kiosk offers several unique benefits for banks, including:
Availability of Services 24/7
Kiosks installed in smart self-service zones are operational 24/7. Banks can install them outside their branches or in various public places such as malls, railway stations, and airports. This allows the bank to maximize its reach and cater to more customers.
Optimal Utilization of Human Resources
Self-service kiosks can extend the banking working hours without extending number of staff. When customers using kiosks to carry out transactions, bankers can virtually support them, this  facilitate  to serve more customers in different geographical locations with less staff and cost, while enable better human resource utilization and HR management, and branch downsizing.
Reducing Cost per Transaction and Opex Costs
Banks can rely on self-service solutions to reduce their cost per transaction and operating costs. The lower maintenance and change request cost per kiosk enable about 40% lower in price than ATMs, Banks can utilize the cost-effective kiosks to build smaller, leaner branches with less staff, while serving more customers.
Flexibility to Deploy and Relocate the Machines
One of the added advantages of self-service machines is that they can be deployed in various areas without requiring a significant cost. Banks can also choose to relocate these machines to other areas to match their business strategy and capture areas where they have a higher footfall. This allows them to extend their reach, and improve profitability.
Remote Management of Machines
Self-service kiosks can be configured remotely to make sure they are running properly. Banks do not have to deploy a team to configure these machines. Instead, they can upgrade them and fix bugs remotely. This can make these kiosks easier to manage. It also makes them more cost-effective and you can reduce management and maintenance costs.
Achieve Digital Branch Transformation with SEDCO's Multifunction Self-Service Kiosks
SEDCO's self-service solutions offer all of the above benefits and more. Besides empowering banks to extend their services while optimizing utilization of resources and reducing TCO, SEDCO system is powered by advanced business intelligence, allowing banks to monitor all machines using live dashboards and receive prompt alerts if any component malfunctions. It also offers a strategic advantage to banks by delivering valuable insights and reports about kiosk visits, transaction trends, and revenue growth, helping them to take key business decisions and achieve better ROI.
For more information about SEDCO Self Service Kiosks, please contact us at marketing@sedco.co