Self Service Kiosks - old
Availability of Services Anywhere at Anytime in a safer mode

Extend business hours to 24/7 – with a cost effective service channel
Customers look for the best service, anytime, anywhere, in a safer mode, and at the best prices!
Achieve digital transformation with minimal staff and at a lower cost. SEDCO's self- service kiosk offers you the most innovative and advanced technologies cutting down on other operating costs, while increasing your customer satisfaction!
Customers want convenience – at reduced costs
Image
Convenient self-service solutions your customers will love - anytime, anywhere
Customers can access all the services they need at any time. Services include bill payment, card/SIM dispensing, form applications, and many other transactions without any assistance from a desk employee. Customers will be able to scan, print, and share supporting documents, while the self-service machines can capture their photos and signatures anytime whenever needed.
Your customers can avoid crowded waiting rooms and use services at their convenience using the Mobile app to book appointments and await their turn. Not only are you satisfying customer needs, but you're also reducing the employee workload and costs.
You can choose one of our kiosk models based on your business needs to provide best user experience.
A smart digital branch and beyond
Image
Smart Bank Kiosk
Open new bank accounts
Apply for loans
Renew ATM cards
Deposit cheque/ Print cheque leaves/cheque books
Transfer funds 
Print account statement
Capture signatures 
Scan, print, and deposit supporting documents
Image
Smart Telecom Kiosk
SIM cards purchasing and dispensing 
Bill payment 
Top up 
Account management 
Mobile money 
Capture signatures 
Scan, print, and deposit supporting documents
Image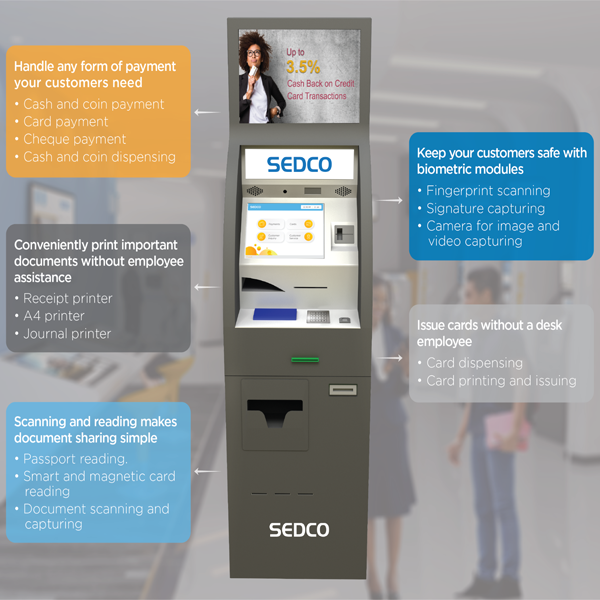 Image
Promote your services through smart digital screens
Attract new customers
Increase the purchase intention of existing customers
Control your self-service kiosks from a central location in real-time
Transform to smart branches that are easy to manage and control with SEDCO's advanced central management system:
Single integration point for all kiosks.
Manage, track, and optimize services.
Update the digital screen content based on customer profile.
Alert notifications to guarantee availability of service.
Make insightful decisions based on service demands, revenue, and customer feedback.
Image
Cut costs while serving more customers - the simple path to business growth
You don't need to open more branches or hire more employees. With SEDCO's self-service kiosk solutions, you can do more than providing a convenient customer journey - at reduced costs
Main benefits of Self Service Kiosks
Complete the cycle to transform to a smart digital business, check out about:
Your Service 24/7. No more queue. Happy Customers.
Your services are available to customers anytime, anywhere, and require less time and effort. That's convenience in a nutshell.
And the best part? Your customers will love it.