Make your customers happy with convenient customer journeys, at every touchpoint
Customers are your most valuable asset. That's why providing good services are not enough.
SEDCO's comprehensive Customer Experience Management solutions provide convenient journeys for your customers at every possible touchpoint- before, during, and after their visit- in and out of the branch.
Your branches get a steady flow of happy customers that want to come back. Your customers get the service they deserve for every interaction. And with self-service solutions, you can scale your operations without the overhead and give your customers unlimited access to your services.
A great customer experience is key to your success
72%
Of customers share positive brand experiences with 6 or more people
87%
Of customers believe brands need to provide more consistent experiences
60%
Of customers are willing to pay more for a better experience
81%
Of businesses with great customer experiences are outperforming their competition
Image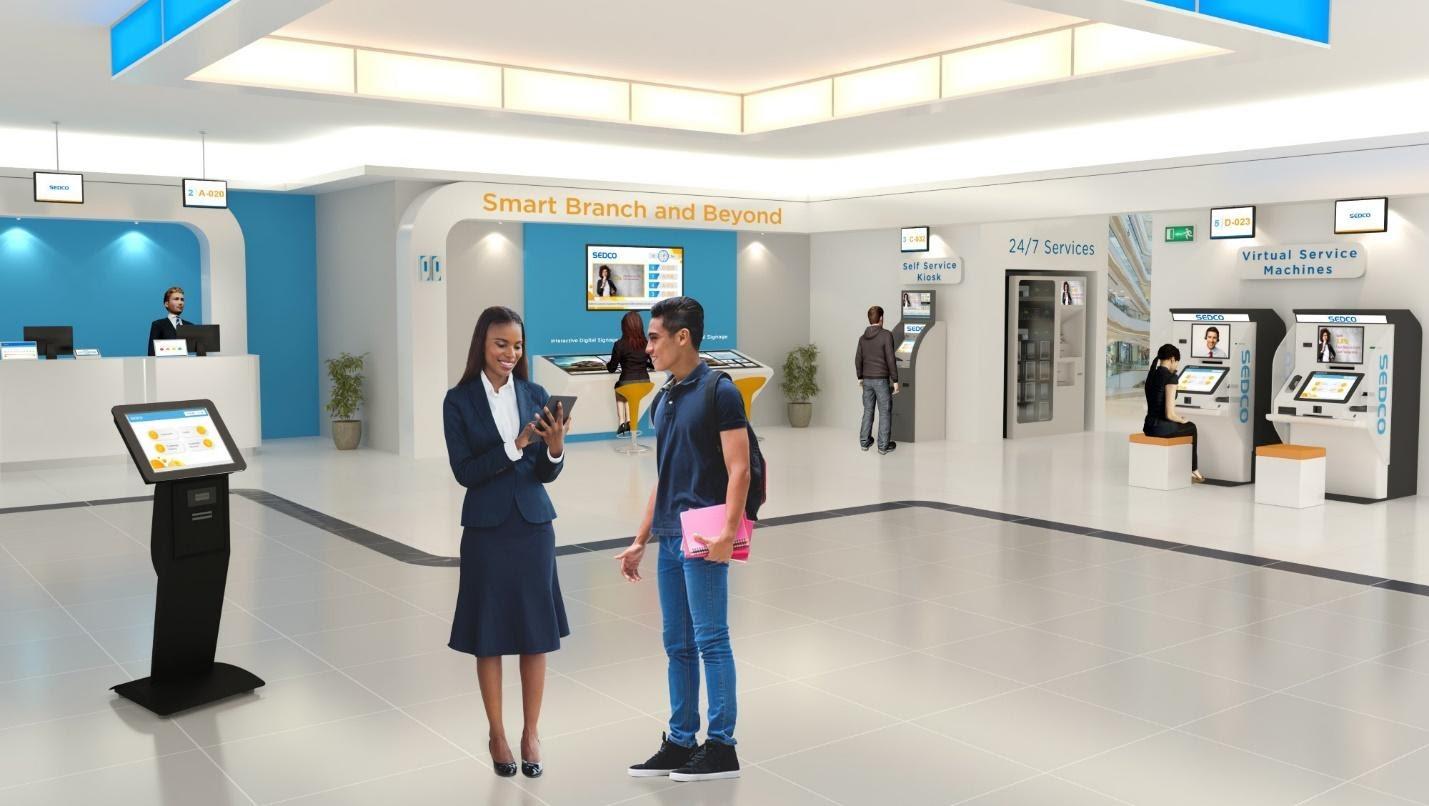 Flexible solutions for smart digital branches and beyond
When it comes to amazing customer experiences, there is no one-size-fits-all. That's why SEDCO's comprehensive CEM solutions can be adapted for specific needs.
CEM Mobile
Queue Management
Digital Signage
Business Intelligence
Self Service Kiosk
Self Service Shop
Virtual Service Machine
Business Intelligence
Image
Start the journey in the palm of your customers' hands with CEM Mobile - before a branch visit
The journey starts before your customers step inside your branch or access your self-service machine. Take a proactive step to engaging customers with user-friendly solutions.  
Guide your customers to the nearest and least occupied branch and beyond.
Let customers conveniently book appointments and wait from anywhere so they can use their precious time to do something else - and send a reminder once it's almost their turn.
Image
Deliver exceptional experiences to customers during branch visits
Stepping foot into your branch is a golden opportunity to deliver your targeted message to your customers while you have them in your branch. Manage the complete customers' visit while having full control over your processes and performance.
Satisfy all customer demographics. Increase retention. Reduce workload and stress within your branches.
Reduce hesitation and speed up the serving process with smart, effortless queue management and self-registration.
Use digital signage to display relevant promotions that keep your customers engaged and boost their purchase intent.
Receive customer feedback to continually meet and exceed their expectations to generate positive word of mouth.
Streamline management and control of your branch from a central location to save on operating costs.
Image
Keep your customers informed and educated with Smart Digital Signage
Put your customers first to nurture their loyalty. Deliver the right content to the right audience at the right stage in the customer journey.
Promote your latest products and services with targeted advertising.
Manage, schedule, and update content on the screens easily from your management office.
Reduce perceived waiting time thanks to targeted content that improves the customer journey.
Inform your customers with updated queue information on screens to eliminate frustrations.
Image
Provide convenient customer experiences anytime, anywhere with self-service machines
You can offer the best customer journeys without the overhead by implementing Self-Service Machines.
The best part? They're available to customers 24/7 without your staff. Don't stop your amazing services once customers are served. With SEDCO's comprehensive CEM solutions, leave a positive and lasting impression of your brand.
Offer convenient face-to-face services from any location with Virtual Service Machines.
Empower customers to purchase products without going to your branch with Self-Service Shops.
Offer a full suite of complex transactions with self-service machines and downsize your branches.
Install self-service machines in dynamic locations for maximum convenience 24/7.
Image
Gain valuable customer insight with convenient mobile customer experience - after the branch visit
Every customer has something to say. Capture their thoughts while they are still fresh.
With mobile Customer Feedback, gain insight on the customer experience to continually improve their journey. Customers can submit their feedback on the go using CEM mobile app or SMS messages.
Image
Understand your business with SEDCO's smart Business Intelligence solutions
Complete the cycle and gain deep insights about your business.
Maximize your return on investment with smart business intelligence.
With SEDCO, you can analyze the past, monitor the present, and plan the future to make better decisions.
Access KPIs and metrics within a single user-friendly dashboard.
Gain deep insights down to the single transaction level to fully understand your business.
Use real-time monitoring to always keep an eye on your progress
Image
Boost the revenue potential of every customer with Omni-Channel Marketing solutions
Reach new markets, boost your brand awareness, and retain more customers by enticing them with the right marketing angle, at the right moment.
With smart omni-touchpoint promotions, you can boost your marketing ROI and gain maximum outreach.
Segment promotions for more effective marketing with AI.
Create promotional content in different formats for every marketing channel.
Promote certain services/ products for the same customer on various channels.
Go green while cutting costs by eliminating paper marketing.
Main benefits of CEM system
Complete the cycle to transform to a smart digital business. Learn more about:
Take the leap to digital transformation - for excellent customer experiences at every touchpoint.