What is digital branch transformation? And why is it important for banks in the COVID-19 era?

Self Service solutions are the key to the branch of the future
In a 'new world' where the majority of us are working from home, direct interaction is limited, and social distancing measures have been put in place, how are banks across the world adopting to this change?
Banks nowadays need to reconsider the normal banking branch with full time tellers and bankers.  Thanks to smartphones, people now almost carry a bank in their pockets, and for their safety they only visit an actual branch to get cash, cards, or cheques, and occasionally, banking advice.
However, physical branches remain an essential part of banks' operations and customer advisory functions, as between 30 and 60 percent of customers prefer doing at least some of their banking in branches, according to a McKinsey research.
Many banks have started to adopt the smart-branch model a few years ago even before the pandemic started, yet most are not extracting the full value potential.
Image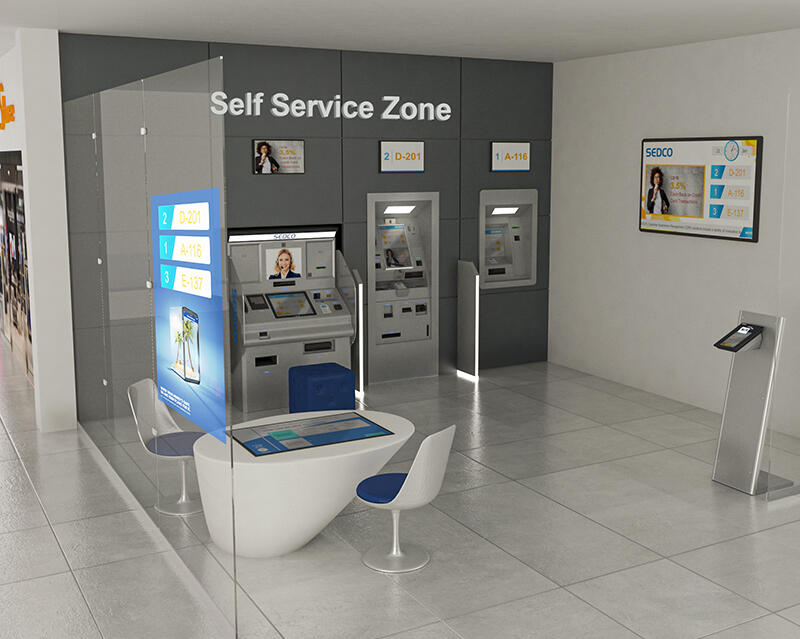 What is a Smart Branch?
In a traditional bank branch, 70 percent of the floor space is dedicated to tellers and other customer service areas, with 30 percent of the space to 24/7 automated service machines.
Smart branches flip the above ratio to a much smaller, simpler, and more efficient scenario. Instead of wondering where to go, customers are approached by an employee (meeter and greeter) who can guide them to self-service machines or in few cases to a counter teller.
However, a smart branch is not only about transforming to digital channels. It also requires fundamental shifts in how banks think about and support the branch, its employees and customers. Smart branch transformation focuses on the following:
Consider the different types of customer behavior to boost sales
Omni-channels is the key to improve customer experience
Some people feel uncomfortable about dealing only with digital channels and prefer face-to-face communication, especially older generation customers and phobics who are late to adopt new technology. Smart banks should have a mix of technology and service employees to boost sales and improve customer experience significantly. Besides online banking, a smart digital branch should include ATMs, Self Service Kiosks, Video Banking Machines and a number of bankers. Considering omni-service channels maintains customer acquisition and satisfaction.
 
24/7 availability of banking operations at a lower cost
Branch effectiveness is measured by cost savings and increased sales
Retail Banks aim to give customers access to banking interactions -beyond cash transactions- round the clock while decreasing the operating costs. Having a self-service zone means reduced staffing, and significantly lower real-estate requirements, while improving customer experience, as people love to have flexibility any time of day or night to get any banking transaction that they need, from new services like applying for loans to issuing a cheque book on the spot.
 
A mix of advanced technology and analytics tools to improve branch operations
A technology to support the branch, employees and customers
Technology should be seamlessly maintaining customer interactions and employees' day-to-day work. With the right tools, machines and software, bank branches can deliver radically improved, inspiring customer experiences. Smart branch aims to migrate more than 90 percent of customer services to assisted or self-service formats; to have simple, smooth, paperless processes for sales and service; and to use next-generation analytics.
Having integrated technologies -such as mobile banking app, virtual queuing, and advanced queue management system- to control and manage each branch to enhance its performance and to save both customers and staff time is all essential to banks.
In order to take corrective actions instantly, smart banks today -through BI tools integrated in their counters and self-service machines- can track their performance in all branches in real-time at various levels: branch, machine, counter, employee, transaction, service, down to customer appointments level. Banks can generate revenue analysis report from the self-service machines.
Smart Digital Branch Formats
 
24/7 Self Service Zone
Located at the entrance of the branch, more than 50% of the space is devoted to the self-service zone, with zero human interaction. This area is the core of a digital branch, since it's open 24 hours a day, and can help customers beyond the typical working hours. It can include ATMs, ITMs, service terminals, and video banking machines where customers can reach service agents via conference call at anytime.
 
16/7 Standing Desk Zone
Available 16x7 or at other timing with one or two bankers according to branch needs, standing desks can support customers with quick transactions that don't require for them to be seated; they can approach for sales and assisted services.  Moreover, standing desks can answer customer questions, train and direct them to machines/ online channels, or support them while using the machines, thus reducing the need for staff-based services.
 
8/5 Standard Branch Zone
For complex transactions that require staff, a standard branch zone is available during standard working hours with three to four employees /relationship managers who can serve customers with specific requirements. Larger branches might need more than four bankers, while including VIP areas for customers and businesses to receive premium services and support. This area also suits older generation customers who prefer human interaction.
With this channel flexibility, banks can reduce branch size and overhead - while simultaneously reducing queuing time for customers.
 
Why it's important to adopt digital branches in the Era of COVID-19 and beyond?
 
A safer bank environment for staff and customers
Social distancing became a habit and will be the new normal to people even after the pandemic. With self-service machines, customers can avoid face-to-face interaction while they can virtually chat with a banker for complex services via a video conference.
 
A touchless customer experience
No more waiting in crowded waiting rooms. With virtual queuing it is now possible for customers who wish to deal with human bankers to book e-tickets through the bank's application and wait in a safer place until they receive a notification about their turn by SMS.
Walk-in customers can also join the virtual queue via scanning a bank CR-code and they can wait outside the branch until their turn comes. 
 
A cost effective channel: Reduce transactions in physical branch for up to 40%
Reduce cost per transaction by reducing staff and overhead cost: The self-service machines come at lower development costs and can help downsize bank branches with less running costs. The kiosks can be deployed using standard Windows servers. They also save costs in terms of development and maintenance because they don't come with cash handling components that require more maintenance protocols.
 
Where can your banks get complete solutions towards digital branch Transformation
While there are many benefits for investing in a smart branch transformation, it is equally important to select the right solution provider who understands your needs and can help your bank effectively achieve its goals in the long run. SEDCO technologies can help you bridge the gap between your digital and physical channels. Besides its virtual queuing and advanced queue management solutions, SEDCO's self-service machines extend branch hours to 24/7 while enabling your customers to go beyond cash transactions:
Open new account (customer onboarding)
Apply for loans and complete the application process with ease
Dispense or renew ATM cards instantly
Issue cheques / cheque books in minutes
Transfer funds to other accounts
Print account statements whenever needed
Scan, print, and submit supporting documents
Interact remotely with bankers for assistance via video call 24/7
The cost-effective machines support customer authentication, including national ID and passport readers, fingerprint scanners, mobile authentication, digital signature verification, and even face recognition.
The self-service kiosks can be placed both inside and outside the branches (for example, in shopping malls), enabling customers to use video conferencing anytime they want to get sophisticated advice, sign agreements, and update their business details, all in a confidential environment.
SEDCO central management tool improves the performance of branches and employees. It helps towards planning the daily goals and strategies of bankers, teams and management, by getting access to powerful reports and statistics on the bank's performance across regions, cities, branches, self-service machines, and employees. SEDCO's management dashboards help your bank to gain deep insights about services, workload, resources, availability, and usage. The reports empower you to:
Loop in data from sources such as self-service machines, tablets and counters.
Measure the utilization/efficiency of your branches, machines, counters and employees.
Compare transaction demand across regions, branches, services, period and segments.
Analyze customer traffic distribution in each branch and machine.
Measure customer satisfaction level against the bank's goals.
Analyze customer trends in transaction demands for a specific period of time.
The advanced dashboards track real-time workloads and sales results to give the bank's management the flexibility to shift machines and resources as required in a fact-based manner.
If you are interested to transform your bank to smart digital branches, or you want to learn more about how you can integrate the self-service machines with advanced central management/dashboard and virtual queuing system, get in touch with SEDCO team today.
-whitepaper.