How telecom operators can benefit from self-service kiosks

With digital transformation evolving every day, the telecom industry must be prepared to tackle a host of new challenges in a highly competitive era to differentiate their business. Some of these challenges include providing a better customer experience, reducing operational expenses, and creating new revenue streams through value addition. For that reason, most of telecom operators nowadays are planning strategically to maximize footfall in their branches, create more cross-selling opportunities, and expand their sales channels more cost-effectively.
Offering self-service solutions can help telecom operators achieve these goals. As a report by Mordor Intelligence reveals, the self-service market had a value of US$ 28.01 billion in 2020, with estimation to reach US$ 68.01 billion by 2026, with a compound annual growth rate of 16.43%. Read on as we discuss how machines such as self-service kiosks could accelerate digital branch transformation for the telecom sector.
Image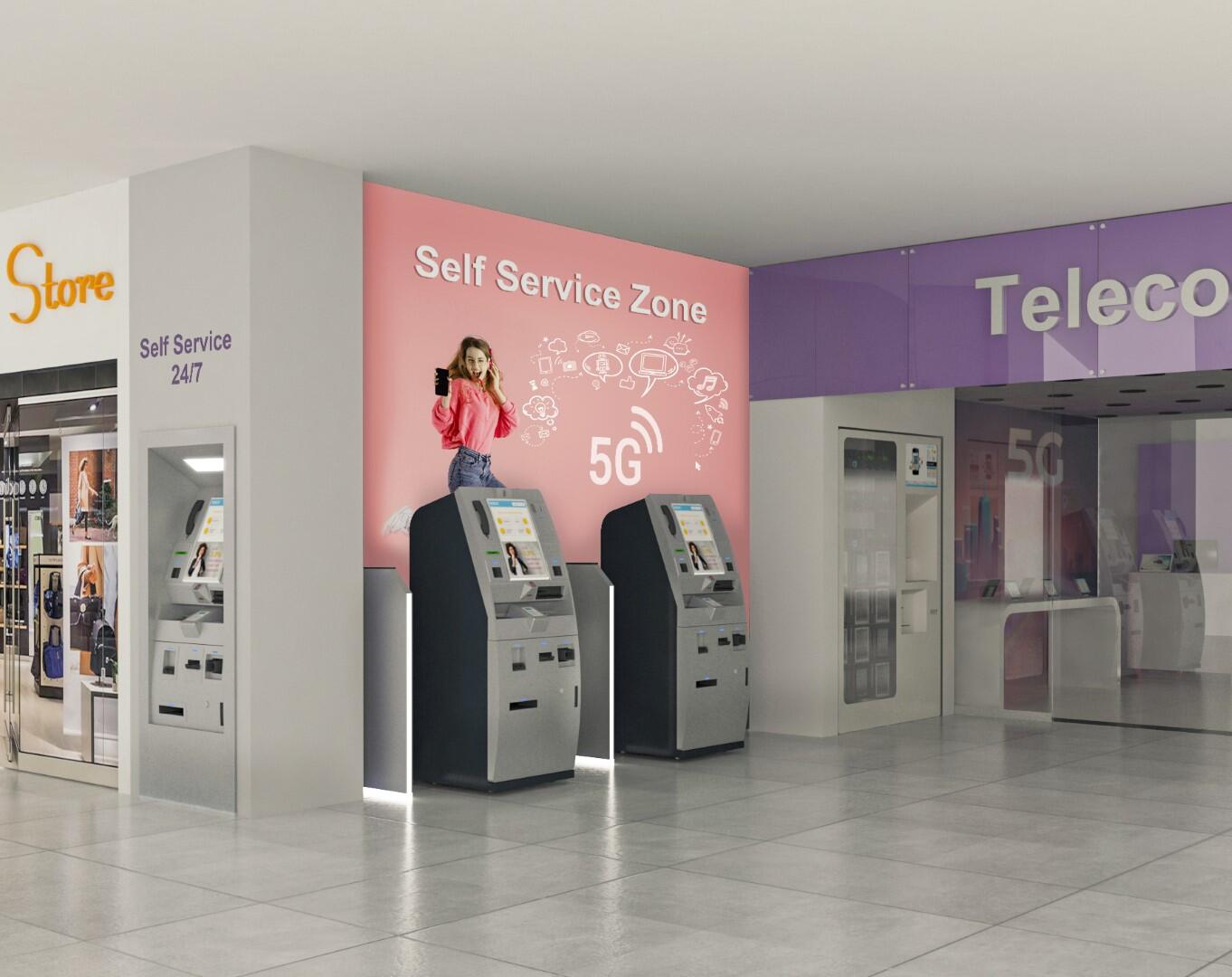 How Can Telecom Operators Benefit from Self Service Kiosks? 
A self-service machine is an interactive device that allows customers to get services 24/7. The machines can be installed in public areas like malls, offering round-the-clock access to services while eliminating the need to wait in line and giving customers the control to get transactions done at their own convenience.
Self-service machines solve a variety of challenges that benefit customers and telecom providers alike. Some of the benefits of self-service machines include:
They Can Issue Instant SIM Cards
With the COVID-19 pandemic requiring social distancing, it has become imperative for companies to explore new ways to serve customers without compromising their health. For telecom providers, they must consider alternatives that allow customers to access their products and services 24/7 without visiting the nearest branch.
Self-service kiosks capable of dispensing SIM cards offer a convenient solution to this problem. Customers can use these kiosks to instantly issue brand new SIMs or swap their cards and avail of their other products with zero hassles.
 
They Enable Easy Account Management
A self-service kiosk terminal simplifies complete account management. It allows customers to complete a myriad of tasks. These include mobile top-ups, bill payment, capturing signatures, scanning, printing, depositing supporting documents, etc. Customers can securely complete all these transactions.
Advanced self-service solutions also come equipped with features such as video calling and engaging with a customer service representative virtually. This allows telecom providers to provide assisted services to achieve digital branch transformation.
 
They Enable Mobile Money (Cash in/ Out)
Self-service solutions can empower customers to perform mobile money services (cash in/out) through the machines. Customers can transfer funds between accounts, deposit or withdraw funds, or pay various types of bills directly through self-service machines.
 
They Generate a New Revenue Stream
Installing self-service machines in public can enables telecom providers to expand revenue streams. They can be used to offer FinTech/non-telco services such as payment of electricity bills, water bills, subscriptions, or governmental fees to maximize footfall, increase cross-selling opportunities, and enhance customer service.
 
They Enable Expansion to New Geographical Areas
Introducing self-service machines can also impact your bottom line. It does away with the need to open new telecom branches to expand your geographical coverage. Instead, you can install self-service machines in public areas and cater to new customers at only 5% of the cost required to open a small branch.  By expanding to new locations, telecom providers can also reach a much larger percentage of the population that is currently unaware of their services or uses a different telecom provider.
 
Provide a Better Customer Experience
With more people using self-service machines, you also get to enhance the customer experience within the branch by reducing queuing time for in-branch customers. Moreover, since self-service machines are operational 24/7, you get to facilitate the customer journey by providing round-the-clock services.
 
SEDCO is a Leading Provider of Digital Branch Transformation Solutions for the Telecom Industry
SEDCO has strong vertical knowledge, best practices, and in-depth experience in implementing self-service solutions for the telecom industry. SEDCO's framework allows you to synchronize the self-service channel with other channels in no time.
SEDCO's self-service solutions are compliant with CITC regulations and allow for KYC verification, including fingerprint scanning, ID validations, QR codes, user authentications and more.
Empowered with advanced business intelligence, SEDCO's multifunctional kiosks provide live dashboards and maps to monitor the status of each machine, offering deep insights through reports. You can use these kiosks to generate detailed reports, including:
Kiosk visits
Transaction details
Current inventory details report of cash, coins, and SIM cards
Card payments transactions report
Revenues growth analysis
Get in touch with SEDCO today to learn how you can use our self-service kiosk terminals to optimize your customer journey and widen your reach.