Why banks are investing in alternative channels during the pandemic

Although banking customers nowadays are switching to secure mobile banking options that provide a much safer experience, they will still need to visit your branches for more complex transactions. With the current pandemic, banks are now facing a new challenge of providing an all-encompassing experience to their customers while allowing them to maintain social distancing.
The future of banks is a hot topic as the world progresses towards an era where mobile banking and ATM machines have become the new normal for most people. The emergence of self-service machines has encouraged banks to reimagine traditional banking and explore alternatives that blend physical and digital experiences to provide all types of banking services 24/7.
These experiences involve enabling customers to pre-stage a banking service on their phone, finish it through a self-service kiosk or carry out day-to-day transactions inside the branch.
So, let's explore together some of the benefits that self-service machines can offer to banks. 
Image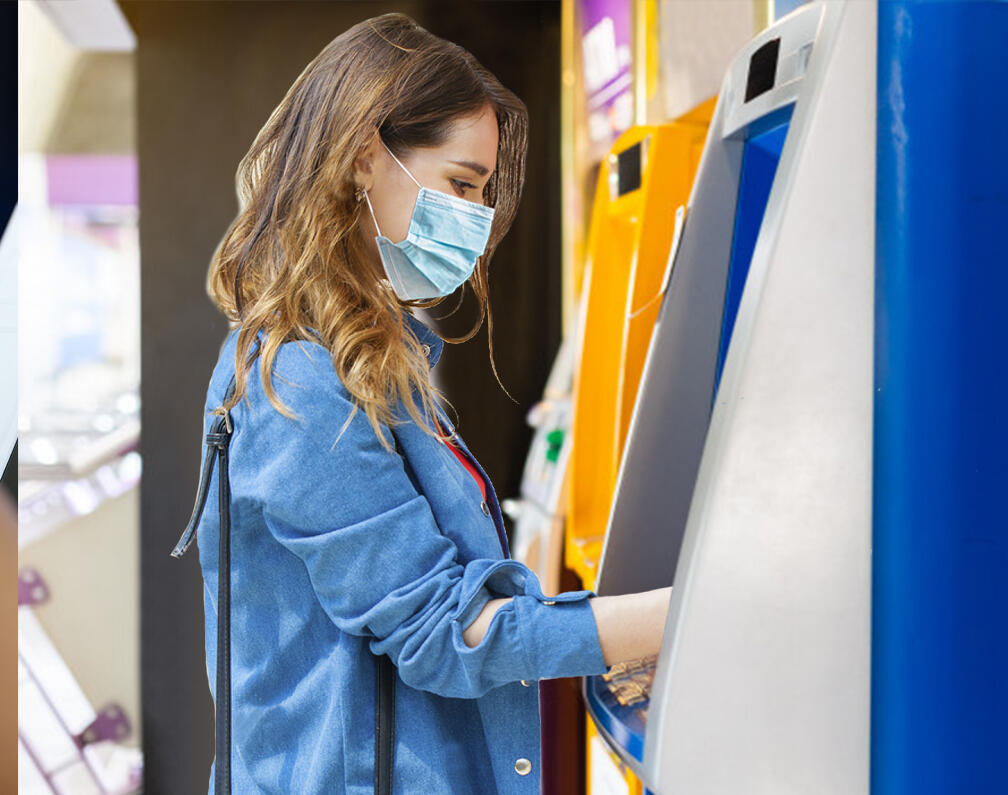 Benefits of Self-Service Kiosks
24/7 cashless transactions in a safer mode
Besides cash transactions that are only available via ATMs, self-service kiosks empower customers to get many non-cash transactions around the clock without the need for direct human interaction. This includes fund transfers, applying for loans, renewing ATM cards, printing account statement, cheque deposits, and many other banking services.
Onboarding of new customers without exposing employees to any health risks
Customers can open new accounts safely and conveniently using the self-service kiosks which can either be installed in a smart digital bank branch or public areas like malls. The kiosk validates the identities of customers through biometric identification or scanning their ID cards, and issue card instantly.
Instant printing of relevant banking documents
There's no need for customers to visit the branches and wait in crowded rooms to print relevant documents. With self-service machines, they can easily print account statements, cheques/cheque books, and a variety of documents while maintaining a safe distance from other people.
Dispensing different types of banking cards through self-service machines
The process of applying for banking cards can be quite long. It may require customers to visit the bank more than once to apply for and acquire their cards. Self-service kiosks provide a convenient and quick solution that allows customers to request ATM and debit cards. The card is dispensed to the customer on the spot, resulting in a much safer customer journey.
Remote assistance via video banking
Customers can have direct assistance from a remote agent whenever they need through interactive video banking machines. This option is particularly helpful as it eliminates the need for face-to-face communication and significantly minimizes the health risks associated with in-person interaction.
How SEDCO Makes a Difference
You can find all of these benefits and much more with SEDCO self-service kiosks. The machines are powered with advanced technology that optimizes the best utilization of banks' resources to serve customers beyond the working hours at reduced costs. All self-service machines can be controlled from a central bank location in real-time.
SEDCO's Digital Branch Transformation solutions provide immense business value to banks from fever screening, mobile appointments, SMS notifications to virtual queuing solutions that keep both your staff and customers protected during these uncertain times.
 
Bottom Line
Ease of transaction, safer customer journey, zero waiting time, better experience, and quick service are just a handful of the benefits that you can expect from the self-service machines. If you're interested in creating the best possible experience for your customers and wish to contribute towards implementing a safer environment, contact us now at SEDCO for more information.