Increase the number of your banking customers with Onboarding and Instant Card Issuance Kiosk 24/7

In today's highly competitive business environment, one of the main challenges for banks is to onboard new customers and increase their market reach. From the customers' perspective, they need to be able to open a new account easily and to get their ATM cards instantly in order to start using the bank's services. Although customers can nowadays onboard themselves through digital channels, they still need to wait for the ATM cards to be issued and delivered to them, which usually takes several days.
This is where self-service instant card issuance kiosks come in, playing a significant role in improving the customer's onboarding experience while cutting the bank's transactional and operating costs. Continue reading to learn how instant card issuance kiosks can speed up the customer onboarding journey, and what benefits they offer to banks and customers.
Image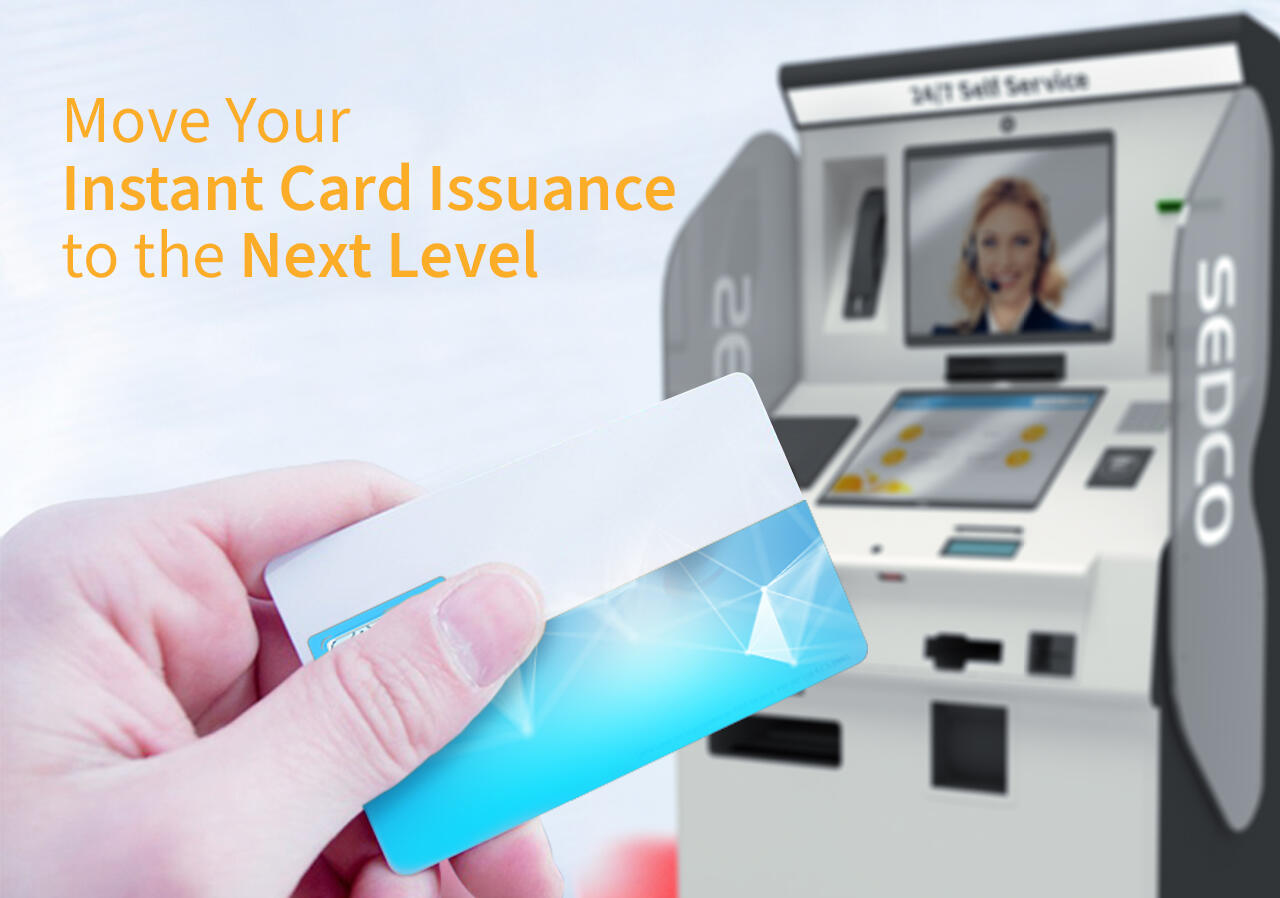 How Self-Service Instant Card Issuance Kiosks Improve Customer's Onboarding Experience?
Onboarding is a key milestone in the customer-bank relationship since it is the first user experience with the bank. New customers can nowadays open an account instantly either via the bank's website, mobile app, or branch. However, they need to wait for days to get their ATM card from a courier company.
But with self-service instant card issuance kiosks, customers can now enjoy a full onboarding experience not only a part of it, since they can open new accounts and print banking cards on the spot without the need to wait.
 
Top Benefits of Instant Card Issuance Machines
Besides facilitating the customer onboarding process, the instant card issuance kiosks offer other benefits for banks and customers. This includes:
Service Availability 24/7
By adopting smart self-service zones, banks can install the machines within their branches or in public areas like malls and railways, offering new customers the chance to onboard and issue their ATM cards whenever they want. At the same time, the machines can be equipped to offer other services such as check printing, card renewal, or account statement printing, giving existing customers access to many complex services beyond the bank's working hours.
 
Secure Customer Identity Verification
The onboarding process is a sensitive one, requiring customer ID authentication. Self-service instant card issuance kiosks empower you to validate the customer identity in various ways. The self-service kiosks can allow KYC (Know-Your-Customer) verification, including ID card verification, passport verification, face recognition, and biometric verification like fingerprint scanning.
You can use AI verification instead, where the self-service machine captures a picture of the customer and matches it with his scanned ID picture. It is also possible to verify the customer's identity when in doubt through a video call with the customer service agent, where the remote agent has full control over the machine.
 
Increased Market Reach
Banks can install self-service machines in remote and underbanked areas, increasing their market reach. Unlike ordinary branches with fixed locations, the machines can easily be relocated to places with higher footfall. It is also possible to add new services to them, serving a wider range of customers.
Transform the Customer's Onboarding Experience with Self-Service Instant Card Issuance Kiosks
Customers will be more motivated to start onboarding with your bank if they get their banking card immediately at the end of the onboarding process, where they can instantly start their banking journey.
SEDCO's self-service solutions take the onboarding experience to a new level. The smart machines support the instant issuance of several types of banking cards, including debit cards, credit cards, subsidiary cards, in addition to cards renewal.
Besides banking cards, SEDCO's instant card issuance kiosks are flexible to provide many other banking services including check deposits, check leaf/checkbook printing,  applying for loans, money exchange, and more.
 Get in touch with us today to learn more about SEDCO's smart self-service instant issuance kiosks.