Tips for governments to improve the citizen journey in 2022

In addition to the usual challenges that government offices face every day, such as the increased foot traffic, the need for crowd control in branches, and the high expectations of citizens nowadays, the COVID-19 pandemic has put extra pressure on governments to reduce human interaction in order to maintain social distancing.
Adopting digital transformation technologies can help the public sector in managing the citizens' flow throughout the day and improving services while saving money and time.
Continue reading to learn how digital branch transformation solutions including queue management and self-service solutions can alter the citizens' journey and help government organizations make more informed decisions and engage in effective crisis control.
Image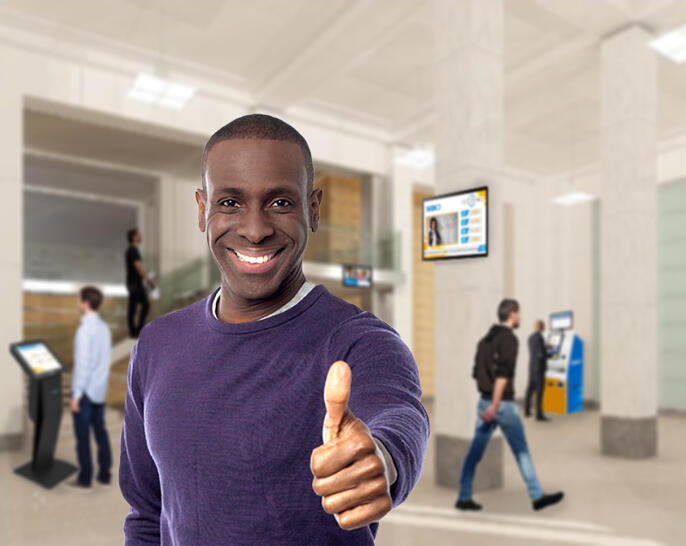 Provide a smooth citizen journey with queue management systems
Citizen queue management systems can help governments have full control over branch crowds while reducing the waiting time and enhancing the citizen journey. Citizens can book appointments online or through their smartphones to plan their visits in advance. They will receive notifications about their turn via the mobile app or SMS messages.  Alternatively, walk-in citizens arriving to the branch can get a queue ticket from the ticketing machines and wait for their turn.
The queue management system can streamline between online appointments and walk-in citizens to ensure a smooth citizen journey. It can also prioritize particular citizens based on their segments to give them special treatment, such as VIP persons, the elderly, and physically challenged people.
Once citizens arrive at the governmental office, they can join a virtual queue by scanning a QR code placed outside the office or on a kiosk, without having to touch any potentially contaminated surfaces.
Adopt self-service solutions for a convenient citizen journey
Self-service kiosks not only increase the efficiency of services but also help governmental offices extend their working hours 24/7 without increasing the number of employees. The machines enable citizens to issue and collect their governmental cards on the spot, such as ID cards, driving/ vehicle licenses, etc. and pay directly through the machines, while ensuring high security through an embedded webcam and Know-Your-Customer (KYC) verification checks.
Additionally, self-service card issuance kiosks can be installed outside the office in public areas like malls and airports, reducing the branch size, operational costs, and the workload on the staff while giving citizens access to governmental services round the clock.
Improve the citizen experience through a feedback system
Citizen happiness is critical for governments aiming to maintain a good image. A citizen feedback system enables governmental institutions to centrally collect and manage the citizens' feedback about the service and employee performance from all channels, such as mobile app, in-branch feedback screens, self-service machines, SMS feedback, and website.
Accordingly, government offices can follow up with unhappy citizens and resolve any potential problem they have faced in order to increase their level of trust and satisfaction. On the other hand, it empowers government offices with the necessary tools to measure and evaluate the citizens' feedback in order to provide high quality services, boost the staffs' performance, and improve the citizen experience.
Create seamless citizen journeys with the power of business intelligence
An advanced business intelligence system with live monitoring dashboards can be integrated with every touchpoint in government offices. The government's management can centrally access these dashboards to monitor performance in its offices in real time.
Above all, the integrated reporting system delivers advanced reports and statistics (such as citizen transaction statistics, branch performance, employee utilization rate, and kiosk visits detailed report to obtain a better understanding of the governmental offices' strengths and weaknesses, allowing them to establish successful strategic plans, improve their performance, and provide a seamless citizen journey.
Deliver a five-star citizen journey with SEDCO solutions
If a government intends to meet its citizens' expectations, it must be able to communicate and deliver services with the same level of customer care its citizens expect in other sectors. This approach can be achieved by adopting SEDCO's digital branch transformation solutions including citizen queue management system, virtual queuing, customer feedback, business intelligence, and self-service machines.
SEDCO's citizen flow management system can help you transform your facilities into a stress-free and convenient place for all the citizens, giving them the experience they deserve while gaining complete control over the flow management operations.
SEDCO's self-service solutions can improve the citizens' journey by making your services available 24/7. The cost-effective kiosks can be easily relocated anywhere inside or outside your governmental office, resulting in a seamless citizen experience while cutting your operating costs. Additionally, the self-service machines are ADA compliant, providing easy access for physically challenged people.
Powered with advanced business intelligence, SEDCO's solutions can provide deep insights through advanced reports and analytics to help your management elevate performance and meet citizens' expectations.
Get in touch with us to learn more about SEDCO's comprehensive digital branch transformation solutions for smart cities and governments.